Downton Abbey to launch furniture range
Posted 1st May 2013 by Aaron Jones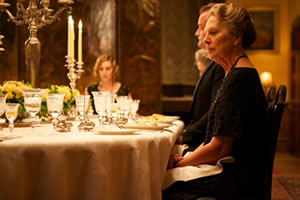 As you know, we at Base like to keep a hawk eye on the landscape of television in order to spot any classic furniture pieces that crop up in popular shows. We have profiled the furniture used in the likes of Britains Got Talent, Grand Designs and Scrubs.
But one programme has taken it one step further than including classy furniture in their set design- by launching their own branded furniture.
An article on Time Magazine's website yesterday reported that the tremendously popular period-drama Downton Abbey will launch an Edwardian-inspired furniture range.
The furniture ranges are part of an innovative merchandising campaign which will include "fashion, apparel and homeware... wallpapers, beauty prosucts and stationery".
All products will take their inspiration from Downton's set and characters, as producers look to make the most of the BBC show's overwhelming celebrity.
Downton Abbey has been praised as a groundbreaking piece of work within the costume-drama genre, by many critics. It has inspired a serge of commissioned programmes of the same sort, since its initial broadcasting in 2010.
If the new merchandising campaign proves a success, we expect it to inspire many other shows to follow suit. Furniture branding could work well for programmes like Mad Men, which regularly features design classics.