Classic Finnish furniture in Helsinki Airport Lounge
Posted 27th November 2013 by Aaron Jones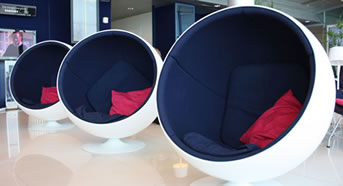 What is my favourite Airport lounge? I have not been to many, nor have I been to my favourite - it is Finnair's main lounge at Helsinki Airport.
The reason for my preference is due to the furniture that adorns the Finnish lounge. Most notably the Ball Chairs by Eero Aarnio where passengers can sit in a true design classic.
The main lounge is available to the company's Finnair Plus members and Business Class passengers. It is frequently voted as one of the best airport lounges in the world.
However Finnair may be about to go one better as earlier this year they announced plans of a new Premium Lounge at Helsinki Airport, due to open in spring 2014.
If the plans do go ahead, one can only wonder what sort of furniture will make it into that lounge!
We might book a Business Class flight to Helsinki for next spring...