UGG Ball Chairs
Posted 7th November 2013 by Aaron Jones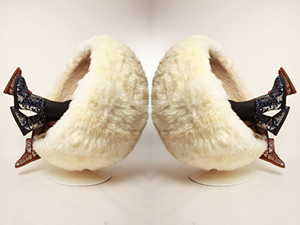 Everyday millions of Londoners pick up their free copy of The Metro and are greeted with a run-of-the-mill advertisement that they forget about in seconds.
However, this morning's edition featured a much more interesting campaign by the Australian clothing and footwear company, UGG. The advert included an image of an UGG Ball chair, pictured.
The advert's purpose was to, obviously, promote UGG rather than to sell the personalised design chair used in it. Yet what if, like us, that image has inspired something in you and now all you want for Xmas is that UGG chair?
You are in luck! There are many companies that provide customised chair design and build - and Base Classics is one of them.
In the past we have created movie-themed Egg chairs or Noguchi tables wrapped with high-quality fabric.
Head over to our site and enquire for your own UGG Ball chair in time for Christmas!