Eileen Grays Anniversary
Posted 28th October 2013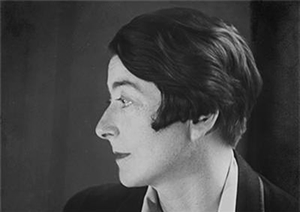 Eileen Gray was born on 20th August 1878 in Ireland. With peerage heritage which included 10th Earl of Moray, Gray was born into a wealthy family.
Between 1898 and 1902 Gray attended the Slade School of Fine Art in London, during this time she also worked at furniture-making which gained her the necessary skills to begin designing furniture. In 1907 Gray moved to a flat in Paris which she lived in on and off for the rest of her life. In the 1920s Gray met De Stijl a Dutch avant-garde group during this time she also came into contact with modern architect Jean Badovici.
Eileen Gray's work was heavily influenced by the contemporary architecture at the time and she then began to design stringently functional furniture. From 1926-1929, Eileen Gray and Jean Baovici designed their own house in Roquebrune called the E-1027. In order to style the house Gray designed modern-architecture such as the E-1027 side table.
In 1930-31 she designed the furniture for Jean Badovici's flat. In 1934 their villa "Tempe e Pailla" was designed and built in Castellar. In 1937 Gray exhibited her work in Le Corbusier's "Pavillon des Temps Nouveau".
During WW2, Gray was forced to evacuate the coast of France where she moved back into her flat in Paris. After the War, Gray led a reclusive lifestyle, although she worked on new projects most of the design industry had forgotten about her. It was only in 1968 her work was brought back to the design industry after a magazine article drew attention to her accomplishments.
Gray died on 31st October 1976. Although in 2009 she set a record sale for 20th Century decorative art as one of her pieces sold for 21.9 million Euros which is equal to roughly £18.7 million.