Eames, High Back Executive Chair
Posted 21st October 2013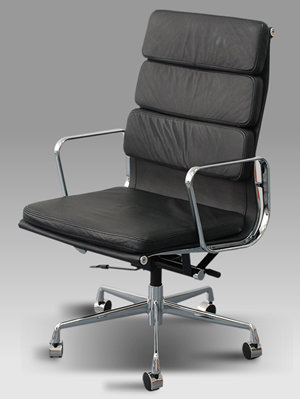 With rising travel costs many business' have opted for workers to work from home, this normally means the worker will have some sort of office within their house.
Working from home can be just as stressful as working at the office therefore the right furniture is needed to both look stylish but still be comfortable. The best piece of furniture I've come across for this effect is the Soft Pad Executive Chair. This chair is made with the modern office look in mind as it's made with a high back, which is important for your spine and a gas lift adjustment which allows you to adjust the seat to the correct height for your working needs.
The chair was designed by Charles Eames who was ranked as one of "The Most Influential Designer of the 20th Century" by the IDSA (Industrial Designers Society of America) and is a recognised figure head in modern design for both architechture and furniture.
So if you are looking for the ideal piece to finish off your home work enviroment then this chair is ideal.