London riots furniture shop will not be rebuilt
Posted 12th August 2013 by Aaron Jones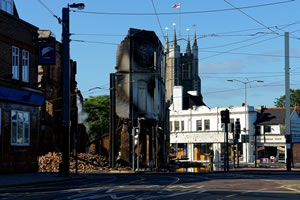 The furniture shop in Croydon that was famously seen burning down, the world over, in the 2011 London riots will not be rebuilt.
Graham Reeves, who runs operations at his family business, announced that he has returned the lease for the site where House of Reeves was. The company operated from that location for over a hundred years.
The Reeves family still owned 40 percent of the land where the iconic build once stood - and have been trying their upmost to get the furniture store rebuilt and restored. However their plans were left in tatters when the majority site owner, The Whitgift Foundation, refused to rebuild.
Mr Reeves has explained in various interviews that until wider plans to redevelop Croydon are in place, The Whitgift Foundation are reluctant to redevelop the shop.
The family initially submitted plans to rebuild the store within six weeks of their family business being destroyed in the riots.
He went onto explain the problems caused by the destruction have cost him and his family millions of pounds.
Mr Reeves went on to describe the building as a bomb site and the surrounding area as yet to be repaired - many of the buildings still have broken glass in their windows.
The company has been established for 147 years and House of Reeves do intend to continue to trade as they have been since the riots. But Mr Reeves believes the building will never be rebuilt.