Base Auction ends - Egg Chair top bid is £237
Posted 25th April 2013 by Aaron Jones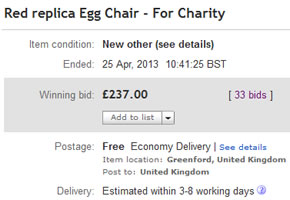 Base's charity auction for a red replica Egg Chair finished moments ago. The winning bid was £237- all proceeds will go to local chairity, Elmbridge Community Link.
The lucky winner of the auction was ebay user smokeyfurnival. The item will be delivered to them within the next few days, once payment is received by the charity.
The auction began on 15th April and lasted 10 days. The first day of bidding saw the Egg Chair's price rise from 99 pence to £100 with a total of 29 bids. The bidding slowed for a while until the 22nd and 23rd April where the top bid rose to £205. The final two days of the auction was relatively quiet until the final few moments which saw the top bid rise from £210 to the winning bid.
All in all, it has been an enjoyable experience running the auction- made all the better by knowing that we are helping out a great cause.
Keep watching this space, as we have more charity auctions planned for the future...