Base launches Egg Chair charity auction
Posted 16th April 2013 by Aaron Jones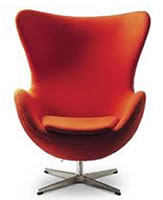 A charity auction for one of Base's replica red Egg Chairs was launched yesterday. All proceeds will go to Elmbridge Community Link, a local charity that arranges activities for people wth learning difficulties.
The charity is very close to Base's hearts and we are thrilled to be helping out the charity in any way we can. The item will also be delivered at no extra charge (UK only).
Bidding began yesterday around lunchtime, for no reserve, and has already received 16 bids- the top bid currently stands at £102. Although, there has been such a serge of interest, the item for that price would still be an absolute steal. A replica red Egg Chair retails at £554.
We encourage you all to head over to the charity auction online and make a bid. It is an opportunity to potentially grab a great bargain, whilst helping out a brilliant cause.