Show Flat Furniture Packages in Leigh on Sea
Posted 2nd April 2013 by Aaron Jones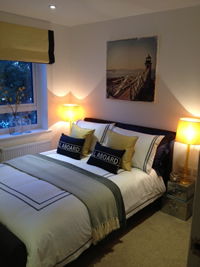 At the beginning of last month, our design team got the very unique opportunity to put together a furniture package for a show flat- at a new development of one-bedroom flats in Leigh on Sea, Essex.
Designing packages for show flats as opposed to private homes, can be a lot more overwhelming. Rather than working with just the home owner and concentrating on what they like, you need to consider whether what you are putting in the flat is universally attractive.
On top of this, your design is the first thing that potential buyers will see when being shown around the development- it can help them figure out what their future apartment may look like. Thus could be the deal breaker between someone investing in the property and not.
So when designing for show flats, the pressure is on...
Although there are some major differences between designing a furniture pack for a private home and show flat, the design process is actually pretty similar.
The first thing to decide upon is a theme and colour scheme for the flat. Luckily for us, these were already sorted. The brief for the independent build was blue/yellow chrome and nautical- the kitchen and living room, below, gave the best example of this.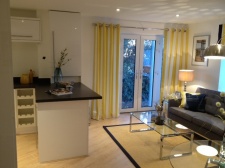 As with any home, the first room that people see and notice is the living area. Therefore it was key that we got this part of the flat just right.
Being a small one-bedroom flat built for a single professional, the living area provided us with little space to work with. Along with this, we had to fit in an armchair, sofa, glass table and dining area all around a built-in kitchen.
Despite this we decided not to sacrifice anything on the style front. We kept the seating classic- with a matching brown Florence Knoll two-seater & sofa set, and wooden leg eiffel chairs for the dining area. The tables were matching too- both were glass. The room was topped off with wonderful wall art & decor, a subdued yellow rug and an arched floor lamp.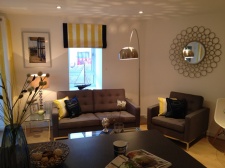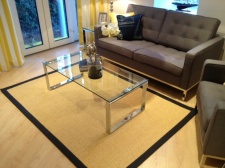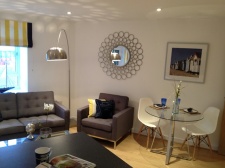 The second room of the show flat that needed careful consideration was the bedroom- where the nautical theme could be pushed to the limit.
In this room we went for darker tones than the living room- the bed was black leather, the yellow less bright and the picture above the bed contained darker colours. As well as this, the bedroom was dimly lit.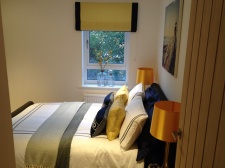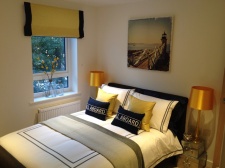 Throughout the project, from concept to the final design, we have tried to keep as true to the brief as possible and keep the furniture items accessible for all.