van der Rohe, "Mies": In design
Posted 26th March 2013 by Aaron Jones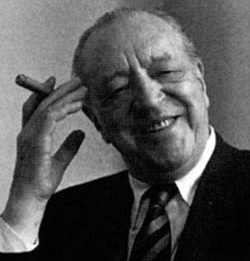 Ludwig Mies van der Rohe was born on 27 March 1886, in Aachen, Kingdom of Prussia. Growing up, he worked as a stone-carver for his father and for several design firms. He then moved to Berlin and joined the office of interior designer Bruno Paul. It was in Berlin where his architectual career began, as an apprentice for Peter Behrens.
van der Rohe is best remembered for his innovative architecture- he is considered by many as one of the most important architects of the 20th Century. His style represented modern times, along with being extremely clear and simple. He is often associated with the aphorisms, "less is more" and "God is in the details".
Many of the traits that characterised van der Rohe's architecture can be found in all his design work; most notably, his furniture classics.
The Barcelona series which were created for the German Pavillion for the International Exposition of 1929 is his most famous, popular and considered a masterpiece in furniture design.
During the period in which van der Rohe designed his furniture pieces, he collaborated closely with interior designer Lilly Reich. Along with the Brno chair and Tugendhat chair, they designed the Barcelona chair and table together.
The Barcelona chair was unique of the Bauhaus era. Many furniture designers and architects were providing well-designed furnishings for the common man. The Barcelona chair, however, was designed for Spanish Royalty.
van der Rohe's furniture design was characterised by fine craftmanship, a mix of traditional luxurious fabrics, and a seperation of the supporting structure from the supported surfaces.
Ludwig Mies van der Rohe died on 17 August 1969.