A Favourite: The Eames Lounge Chair
Posted 19th March 2013 by Aaron Jones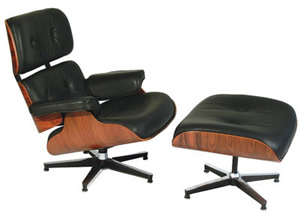 There is nothing quite like the Eames Lounge Chair in furniture. Nothing encapsulates usability, comfort and design like Charles and Ray Eames' masterpiece. This is why it is a favourite of mine.
After years of development, the design was finally released in 1956. The Eameses were commissioned by the Herman Miller furniture company to design a product for the high-end market. Molded plywood and leather were the material of choice.
Going against the grain of the "high design laws", the Eameses firstly focused on usability and then ensured the chair would be very comfortable. Charles even remarked that the chair looked "comfortable and un-designy".
It is composed of three curved plywood shells. The shells and the seat cushions are the same shape. The chair's back and headrest are identical in proportion.
In the year of its release, Herman Miller launched an advertising campaign which extended from television, through to radio via print ads. The campaign depicted the chair's versatility.
The chair has also had a long-standing relationship with entertainment on television. It made its debut on the Arlene Francis Home show on NBC in 1956, which was broadcasted in the USA. It also featured in the hit TV show Frasier.
But why is it my favourite? For me, its like a big cuddly teddy bear in an industry full of china dolls.