Furniture: Style vs Comfort
Posted 12th March 2013 by Aaron Jones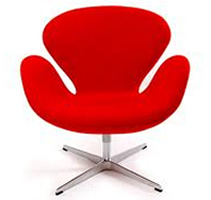 The eternal battle between looking good and feeling comfortable can be found in many essentials of day-to-day life, from clothing to motor vehicles. Another that the argument continues to stream through is furniture- whether one should choose a frumpy sofa with extra padding or a slick designer chair continues to divide opinion.
There is a myth cemented deep into furniture folklore that the nicer the piece of furniture looks the less practical it is to use. For example, many would look a the Ball Chair's unusual design and be instantly put off- thinking it too complicated to make a comfortable seat to place one's bottom.
People, for a reason unknown to me, seem to think that in order to have the style they need to sacrifice the comfort and vice versa. They do not believe they can have the best of both worlds- but in furniture, this is not the case. We strongly believe that there are many design classics that are great looking and wont leaving you aching after you use them.
Most notably the Swan Chair, which was designed Arne Jacobsen for the Radison SAS Royal Hotel in 1958. It may be due to the fact that the item was designed for comfort and much use in mind that means comfort is a key feature of the Swan Chair.
However, could that not be a valid arguement for any piece of furniture- that they are designed to be used, so comfort must always be a key factor in it's design. I would challenge anyone to name a beautiful piece of design furniture that does not deliver on comfort too...