Poul Henningsen: In Design
Posted 10th June 2013 by Aaron Michaels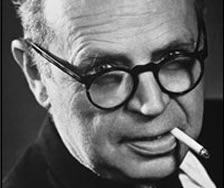 Poul Henningsen was born in Denmark on 9 September 1894, the illegitimate son of author Agnes Henningsen and satirist Carl Ewald. His childhood was a happy one; his home was visited by leading literates, on regular occasions. Henningsen was educated as an architect between 1911 and 1917, but he never graduated.
Henningsen designed the PH Grand Piano; a popular design which was included in the design collection of the Metropolitan Museum in New York City. Along with this, he designed Glassalen for Tivoli Gardens in Copenhagen. However, it was in lamp design that he made his biggest contribution.
Henningsen designed the a series of lamps known as the PH-lamps. The light fixtures were uniquely designed with multiple concentric shades to eliminate visual glare, only emitting reflected light, obscuring the light source. The series was very popular in its day, and is still in production today. The PH5 lamp is pictured below.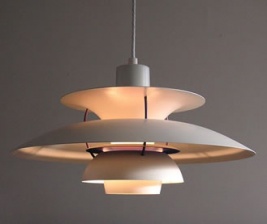 Out of all the light fixtures and indeed all of his designs, there was one that cemented his name in design history; the PH Artichoke Pendant. Undoubtedly his masterpeice, the designer light fixture was a collaboration with Louis Poulsen whom Henningsen continued to collaborate with until his death.
The PH Artichoke is the English name for the lamp. But the original Danish name is PH Kogle- it is still known by this name in Germany and Norway. It was Henningsen most popular design and is still in production today, with many reproductions being found at high-street stores.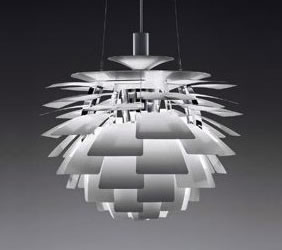 Along with being a successful designer, Henningsen found collosal amounts of success in literature as an author and a critic. He was regarded as a leading figure in Denmark's cultural life between the World Wars. In Denmark he is a national treasure, affectionately known as PH. Poul Henningsen died on 31 January 1967.