Chair & Sofa Leather Types
Posted 13th December 2012 by Aaron Jones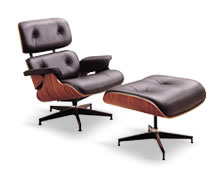 A leather sofa or chair is the pinnacle of sophistication in the furniture world- instantly adding cool to whatever room it may be placed in. But it can be a difficult task to distinguish between a quality leather which will last for decades and a low grade one.
Below are two high quality Italian Leathers, which are great for sofas. You will find a short description of their dinstiguishing features so you can easily pick them out from the crowd, followed by some tips on how to clean leather best.
Premium Quality Leather

This leather is often described as premium, top grain or corrected leather. Any blemishes and imperfections are corrected during manufacture, by a process called buffing. A significant pigment is then applied to the leather. It is then embossed with artificial grain print to achieve a uniform colour and look.

Full Aniline Leather

Due to the cost of producing it and the natural velvety soft finish, the full aniline is recognised as the highest quality leather. The colour is achieved by using dyes, not pigments. Due to the absence of pigments, the leather's pores are not blocked and it can breathe easier. In time, it will gain more character and is the most comfortable to sit on.
Cleaning Italian Leathers
There is a method of cleaning leather for every problem you may come across. Here is a quick guide on how to clean leather.
Food- Gently blot excess spill with soft damp cloth. Dry slowly away from direct heat.
Water- Let it dry slowly, do not use heat guns or air dryers.
Ink marks- Treat early for best results. Rub a white eraser quickly and firmly over the mark. Test in an inconspicuous area in advance.
Grease- Gently lift excess grease with the soft dry cloth. Use a liquid cleaner and follow the instructions carefully. For stubborn grease marks you may need a degreaser product.
Wax- Place ice cubes in plastic bag over wax until it become firm enough to gently lift from the surface. Treat any residual marks as grease.
Gum- Gently heat with hair dryer. Use clean white cloth to from surface onto cloth.
To read more, click here.