Five Classic Furniture Pieces Perfect for Christmas
Posted 29th November 2012 by Aaron Jones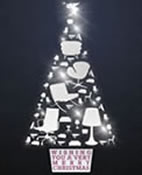 Christmas is all around- as the saying goes. So to get in the mood, we've come up with a quick list of Classic Furniture pieces that could fit into any home this festive season. Whether it's meant to accommodate the lively kids or the sleepy Grandpa, there is piece of Classic Furniture suitable for any occasion!
Florence Knoll Sofa

Strong, sturdy and stylish- the three essential S's of Christmas furniture. Let's face it, Christmas is the time of the year when furniture is going to be used the most- and by many people at once. The Knoll's impressive size and durability means that it gives extra sitting space and will with stand those big family get-togethers over the Xmas period! The fact it looks absolutely gorgeous is a bonus!

Le Corbusier Dining Table

A grand dining table is central to the Festive celebration, especially on the big day. It is where all the family gather to enjoy mum's home cooked Christmas roast- thats why it 's essential you get your dining table just right! It needs to be safe and secure with a good size, but this doesnt mean you need to sacrifice on aesthetic pleasure. Instead of a mundane and chipped wooden surface, add a bit of class & glass with a Le Corbusier!

Leather Eames Lounger & Stool

There is no better piece of classic furniture to lounge upon during Christmas than the Eames Lounger. After dinner's been eaten and the annual game of Trivial Pursuit has lost it's charm, it is tradition in many families to snore their way through a festive DVD. The Eames Lounger mixes before style and comfort- which allows Grandpa to put his feet up and fall asleep, whilst looking good!

Large Artichoke Pendant

Lighting is essential in brightening up your decorations and adding an extra spark to your home at Christmas. The Artichoke Pendant is not just a light, however- it is so beautiful that it can act as a Christmas decoration itself! The classic piece would add style and class hanging over any dining table as the family sit down for their annual feast!

Series 7 Chair

With all those extra bodies you'll be accomodating for over the holidays, extra seats are a necessity. But you don't want them to be heavywieght and investing in a new sofa can be costly. You need something that is light, simple and wont leave your wallet feeling too light- the Series 7 Chair is perfect. You can pull these out when you need a few extra seats around the dining table with ease!
You can get all these products & many more in time for Christmas, from Base Classics.